Origin
---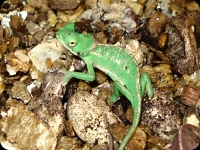 The majority of our animals come from our own stock. Our stock is bred regularly and represents the principal base of animals we offer for sale. This includes all types of Chameleons, Geckos, Anolis, Snakes as well as other Reptiles. These particular animals are always designated "CB" in our price list. 
To satisfy the demands of our customers, we have supplemented our basic selection of animals with a variety of species of wild-caught Spiders, Scorpions and other Insects, supplied by our partners.  They are raised in captivity for a minimum of one month so that we can ensure their state of health and quality.
  Animals
---
The sex of the animals for sale is either specified or unspecified. Sex is listed next to each individual, unless noted that the animal is still too young to determine its sex. (0,0,1). We offer a 100% accuracy guarantee of the sexing of our animals.
A number of our animals are for sale in pairs only. This stipulation is listed in the list of animals for sale, and the price listed is for both animals. These species (items in the price list) cannot be sold separately.
 Health Conditions
---
We offer only healthy animals in good condition that are mature enough so that they are suitable for transport. The minimum age of the animals is one month. The age of specific species is available upon request.  Our entire breeding facility is under regular veterinary supervision, and our practices are in accordance with legislative regulations as well as animal welfare regulations. The health of each animal is always verified prior to transport, and animals are routinely tested for common illnesses and parasites. Health certificates are available upon request.
Ordering
---
Orders for animals are by e-mail only, based on the current price list. Wholesale price list  we can send it to you via e-mail upon request. In your order, please list the name of the animal you would like to purchase, sex, and number of animals requested. Information is listed in our stock list. If you are interested in a greater quantity of certain animals than is listed in the price list, please specify the desired quantity in your order. We are usually able to fulfill such requests.
A confirmation of the number of animals will be sent in our confirmation e-mail or in other correspondence. Species not listed in our stock can be made available upon request. If you are interested in a particular species, do not hesitate to send us a specific request.
We collaborate with proven breeders of many species and are able to provide and deliver these animals to you. The animals concerned are always quality animals from reputable breeders, for which we accept full responsibility. The minimum delivery period is 14 days from the final order confirmation. Delivery conditions and specific dates are always discussed with the customer.
Minimum Order
---
Air transport
- the minimum order is 1500€
Ground transport
- the minimum order is 1000€ for Germany,  Austria, Netherlands, Denmark, Belgium
- the minimum order is 1500€ for UK, Italy, France, Sweden
Terms of Payment
---
The price of the order is calculated in total, and includes all aspects of delivery. The price is always disclosed beforehand and approved by the customer. Payment is in the form of bank transfer to our account, based on the invoice. If you are a new customer, we require a prior down payment of 50-70% according to the price and specifications of the order. Delivery is possible only following receipt of the down payment. Regular customers pay the total price of the order upon receipt of delivery. To obtain the status of regular customer, you must complete a minimum of three orders in the span of one year.  For air transport, it is necessary to take into account fees at the airport of the final destination (airport fees, customs fees, taxes). We recommend our customers verify applicable tax fees beforehand. We are VAT payers
Guarantees
---
We offer a 24-hour guarantee of health from the time of delivery of all our animals. The customer is required to ensure proper living conditions for this period of time, such as housing, lighting, hydration, and feeding.  Longer warranties of health are not possible, because animals are living beings and without proper conditions their health can deteriorate rapidly. All DOAs or animals in poor health must be reported within 24 hours, along with photo-documented proof.
Longer warranties apply to fatal birth defects and abnormalities or ones that prevent reproduction of the animals.  Approved claims will be deducted from the final invoice, or will be transferred as credit for future orders.
---
For more information on delivery conditions, please do not hesitate to contact us through the contact form on our website.